The Men who Built America • A New War Begins
[raw]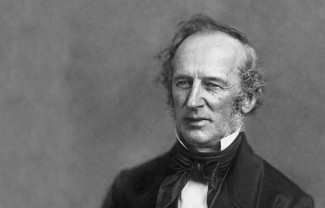 Cornelius Vanderbilt (1794-1877)
Shipping and railroad tycoon
As a boy, he worked with his father, who operated a boat that ferried cargo between Staten Island, New York, where they lived, and Manhattan. After working as a steamship captain, Vanderbilt went into business for himself in the late 1820s, and eventually became one of the country's largest steamship operators. In the process, the Commodore, as he was publicly nicknamed, gained a reputation for being fiercely competitive and ruthless. In the 1860s, he shifted his focus to the railroad industry, where he built another empire and helped make railroad transportation more efficient. When Vanderbilt died, he was worth more than $100 million.
[frame bgcolor="#333333" version="dark"]
[box-title align="right"]
A New War Begins: Episode 1
[/box-title]

[two_third_last]
[frame]
As the nation attempts to rebuild following the destruction of the Civil War, Cornelius Vanderbilt is the first to see the need for unity to regain America's stature in the world.
[/frame]
[/two_third_last]
[rule]
[rule]

[frame]
Kerosene is lighting America after dark in unprecedented ways. The demand for oil is sky high and Vanderbilt knows that oil can fill his trains. He turns to a young maverick oilman from Ohio, John D. Rockefeller, to do just that.
[/frame]
[one_third_last]
[frame bgcolor="#333333" version="dark"]
[box-title align="left"]
Oil Strike: Episode 2
[/box-title]
[/one_third_last]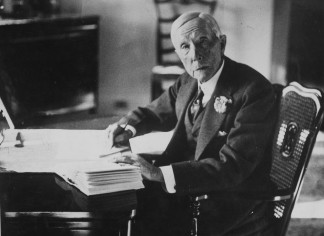 John D. Rockefeller (1839-1937)
The Standard Oil Monopoly
Born into modest circumstances in upstate New York, he entered the then-fledgling oil business in 1863 by investing in a Cleveland, Ohio, refinery. In 1870, he established Standard Oil, which by the early 1880s controlled some 90 percent of U.S. refineries and pipelines. Critics accused Rockefeller of engaging in unethical practices, such as predatory pricing and colluding with railroads to eliminate his competitors, in order to gain a monopoly in the industry. In 1911, the U.S. Supreme Court found Standard Oil in violation of anti-trust laws and ordered it to dissolve. During his life Rockefeller donated more than $500 million to various philanthropic causes.
[/raw]